Community Cats Matter!
Welcome to T-Town TNR! T-Town TNR is a non-profit organization in Tulsa Oklahoma that uses humane Trap-Neuter-Vaccinate-Return (TNVR) protocols to improve lives of existing community cats while working to stabilize and reduce that cat population. Our organization is made up of an all volunteer membership that consists of like minded individuals that have come together over the years to fulfill a Mission that we are passionate about, that of TNVR.

Oklahoma has a major animal shelter population and euthanasia challenge. Every six minutes, a cat or dog enters one of the state's 116 animal shelters and every 45 minutes one of those animals is the next in line to be put down. Oklahoma ranks ninth for the most animals euthanized and only a handful of states euthanize more animals per 1,000 people.
Tulsa's animal welfare community is coming together on behalf of community cats and the practice of Trap-Neuter-Return. As shelters and rescues struggle with animal intake exacerbated by kitten season,
Animal Rescue Foundation of Tulsa
,
Animal Aid of Tulsa
,
Humane Society of Tulsa
,
Oklahoma Alliance for Animals
,
Outsiders TNR
,
Prairie Pet Coalition Oklahoma
,
Sapulpa Furry Friends
,
StreetCats Inc.
T-Town TNR
, and
Tulsa SPCA

, as well as nearly two-dozen veterinarians, are speaking in a unified voice in support of TNR.
Please participate with companion animal advocates in supporting the practice of Trap-Neuter-Return as a proven long-term strategy to reduce the breeding population of community cats.
---
---
---
---
Please give generously to T-Town TNR.
We are an all-volunteer,
501(c)3 nonprofit
organization and
every
dollar goes toward making a difference in our community and in the quality of life for Tulsa unowned outside cats.
LOOKING FOR WAYS TO DONATE?
Consider giving a
recurring monthly or quarterly gift
. Recurring donations are wonderful because they enable us to plan year round funding, and sustainability is one of our greatest challenges.
​​T-Town TNR is a 501(c)3 nonprofit and eligible for most
corporate matching gifts
. WAY COOL!
Items from our
Amazon Wish List
are in high demand and highly appreciated! Shop from the comfort of you favorite recliner… and save lives… The Amazon Wish List Donate button is conveniently provided below…
​
Run a Facebook campaign/fundraiser for T-Town TNR.
Contact
us and let us know your interested! We'll help make it fun and easy!
Mail Donations to:
PO Box 703013, Tulsa, OK 74170
Watch for our ongoing events! We have a BIG one coming up! Watch for news about "City Nights" in our Newsletter and social media MEOW.
We would love to hear your ideas for fundraising too!
Contact
us!
---
---
We're excited to partner with Chewy in lending a paw in animal welfare. Use this link to Chewy and when you make your first purchase, Chewy will donate $20 to T-Town TNR in your honor! Click the link and shop now to support!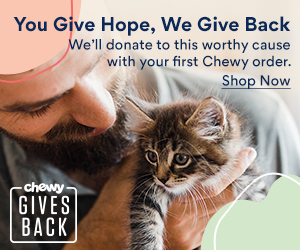 ---
See how T-Town TNR impacts the community.
INFORMATION & RESOURCES
---
What To Do (or NOT to do) If You Find Kittens
If you/others find kittens, please do not assume the mother has left them and try to "rescue" them. Most of the time, she is away eating or has been scared by humans or dogs and is hiding. Trust, as best you can, that she will be back.
The mother cat offers her newborn kittens their best chance for survival, so wait and watch as long as you safely can for her to return before removing them.
Do not leave food for the mother nearby where she has her kittens. Doing so can draw wildlife and other cats to the site which threatens the lives of the kittens. She has put them safely away from any food sources on purpose. Smart!
If you are fairly certain that the kittens have been abandoned, put a border of flour around the kittens and leave the area (mom may be watching you watch for her) for a couple of hours and then come back and look for prints in the flour. Be creative!… set up a Trail cam if you are able!
Know that there are not enough resources in the City of Tulsa to bottle feed and care for all of the kittens that will be born to unowned cats. They stand their nest chance with their mothers, then spayed and neutered later when they are also old enough to vaccinate.
Consider using
"food grade" diatomaceous earth
at your feeding stations to deter ants. It can be found at any feed store. It can also be used to treat your yards and cat shelters to kill fleas in places where the cats hang out. It is harmless to pets and wildlife and quite inexpensive.
For additional information, click
HERE
.
T-Town TNR Facebook Feed
Thank you to our T-Town TNR Partners!
---